NEW!  Intuitive Development E-Course!
Learn to use your old gifts in a new way… the Master's Way! Many of us feel like we've hit a wall.  We've been struggling, stretching, manifesting, and self healing for so long.  We've meditated, practiced gratitude, received flashes of insight, and acquired quite a collection of oracle cards!  But…
Do you feel as though you are not advancing spiritually… as much or as quickly as you would like?
   Do you feel the world at large, or your inner world, is reflecting back to you only chaos and turmoil?
   Do you have trouble concentrating or focusing? Do you have trouble discerning between messages from ego or messages from higher self?
   Do you still have difficulty trusting your intuition even though you have been proven accurate time and time again?
   Do you want to activate and live in your heart but don't know what that really means and how?
In this experiential e-course, we will create a foundation for your deepest surrender and strongest intuition to emerge. Using the theta brainwave, we will access the higher realms, increase our focus and attention, and accelerate our consciousness. Reach beyond the limits of your potential and learn the keys to expert intuition and how to thrive as a Master in 5th dimensional energy!
---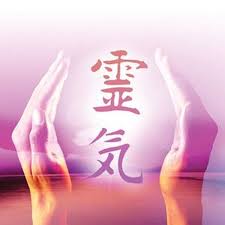 Usui Reiki Certification ~ All levels
For those who are called to study this ancient healing art, Reiki is a sacred gift that allows people a connection and the ability to channel Universal Life Force Energy. Reiki empowerment comes through a series of initiations that increase power at each level or degree. Once you are attuned to Reiki, the empowerment for healing yourself and others is available to you for the rest of your life. Reiki can be used only for good and in harmony with universal law, as Reiki is, very simply
love
.
Reiki I (First Degree)
You will learn the Reiki principles and the history of Reiki and how it works. You will experience a guided meditation to prepare you for the attunement (activation) ceremony. After the transfer of energy, you then become a facilitator for channeling healing energy. Hand positions are introduced for treatment and self-healing. The chakra system, aura, cleansing cycle and ethics will also be discussed.  $150
Reiki II (Second Degree)
The energy transfer further opens you to the Reiki energy. Symbols are introduced that are used for long distance healing as well as those to work with such issues as past-life, karma, mental healing and emotional healing. Special emphasis is also placed upon developing and strengthening intuitive abilities.  $250
Reiki III (Master or Master Teacher)
You receive the highest attunements and training available to completely open you to the Reiki energy. Instruction and practice is given in using all symbols and techniques in the Usui system. Experience Reiki breathing, water ceremony, candle light ceremony, and beautiful meditations. Master Teacher training and certification is also given to those who desire to teach and empower others through natural healing and spiritual development. $333
---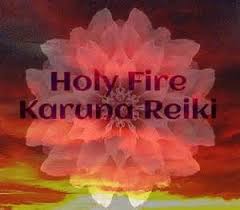 Holy Fire Karuna Reiki ~ Master Teacher Certification
The Meaning of Karuna
Karuna is the motivating quality of all enlightened beings who are working to end suffering on Earth. They continually send an unlimited amount of healing energy and guidance to us, but not all are receptive to it. As you develop Karuna in yourself, not only are you helping others, but you also become more receptive to the Karuna that is being sent by all enlightened beings. Thus your healing is quickened as well. Karuna Reiki® opens you to work more closely with all enlightened beings. This includes those enlightened ones who are physically present as well as those in spirit.
The Holy Fire Karuna Reiki® Class
To qualify to take this class, a student must have been a Reiki master for at least 6 months and be able to draw the Reiki II and master symbols from memory. This class is the next step after Reiki Master and is both a practitioner and a Master class. Those that take the class will be able to use the symbols in their Reiki sessions and teach all levels of Holy Fire Karuna Reiki. It is complete with eight practitioner symbols, one master symbol, three ignitions and two meditations that are guided directly by the Holy Fire. Both levels of Holy Fire Karuna Reiki® and three ignitions will be given as well as instruction and practice on the use of all nine symbols including the Holy Fire Master symbol. You will be able to teach all four levels of Holy Fire Karuna Reiki®, two practitioner levels and two master levels after taking this class. Those who have already taken ART/Master or Karuna Reiki® will be able to teach all levels of Holy Fire Reiki including I&II, ART/Master and Karuna Reiki®. Lots of practice time is included for giving treatments, using the symbols and for learning the ignition processes. We will also be using chanting and toning with Holy Fire Karuna Reiki®. A certificate and a 125 page manual is included along with in depth descriptions of each symbol and each attunement process. You will also be offered the opportunity to become a "Registered Holy Fire Karuna Reiki® Master" with The International Center for Reiki Training. You will then be able to use their manuals and your student certificates will come from the Center.
Excerpt:  The International Center For Reiki Training, Southfield, MI http://www.reiki.org/hfClassDescriptions.html#kar